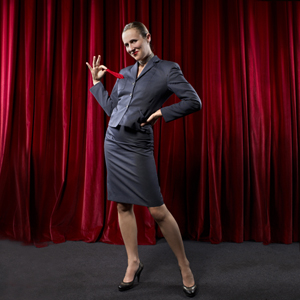 HANKY PANKY
"One of the most inventive striptease routines ever devised.." The Daily Telegraph
Hanky Panky is a five minute choreographed magic strip-tease. The act uses a simple disappearing handkerchief conjuring trick at its core.
Martinez enters stage fully clothed. She performs the trick and the hanky disappears. It reappears from her jacket pocket. The jacket is removed. The hanky disappears again and reappears from her skirt. The skirt is removed. During the course of the act, Martinez continues to make the handkerchief disappear and re-appear from her various items of clothing, which she then removes.
Finally Martinez is completely naked. Once again she performs the trick and the handkerchief disappears. With a grand finale flourish, Martinez retrieves the handkerchief from a truly magical place!
WATCH VIDEO
PREVIOUS PERFORMANCES
Martinez has performed this show stopping cabaret act all over the world, including Sydney, Hong Kong, Lisbon, Madrid, Vienna and Budapest. Special party events include Tate Modern, a Fundraiser attended by Princes William and Harry and Salmon Rushdie's stag night!